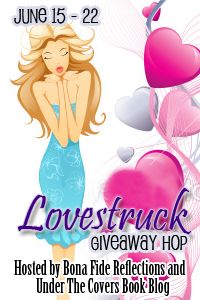 Lovestruck
She said "I'm afraid of falling..." he whispered "I have wings..."
-Harlem Shake
* * *
I want to be his favourite hello... and his hardest goodbye...
- unknown
* * *
There is no remedy for love, but to love more...
- Thoreau
There's being Lovestruck
for the FIRST time...
And then there's the
HOT and PASSIONATE
LOVESTRUCK
But wha
t happens....
When you try to fight it?
Or
You can't control it?
"Take your p
ants off," he snarled.
Every muscle in her face scrunched up.
"What?" she choked.
"What are you going to do?" Taking in her surroundings, she sneered up at him. "Are you gonna try to screw me right here on this rooftop?"
With structured control, Jed crouched down in front of her. "No," he said between clenched teeth.
Ready to scamper back from his threatening tone, from the destructive gleam in his eyes, she straightened her bending backbone and briskly asked, "Then why the hell do you want me to take off my pants?"
Jed closed in on her. His scent invaded her nostrils. His hardened features didn't crack when he candidly replied, "I have to punish you for the stupid stunt you just pulled."
Her palms flattened on the ground as she tensed, ready to flee. "Punish me?" Her voice came out high pitched.
"Yes." A sardonic smile curved his mouth. He placed a finger beneath her chin, getting her full attention. "You're fearless, Jinx, and I don't think you've ever been properly punished for it, for the foolish things you do." He leaned in closer, and Jinx went from nervous to shivery. "Now, unbutton your pants and wiggle your little ass out of them before I do it for you."
Wait! If he doesn't plan on fucking me, what the hell is he planning? No! He can't mean… As the notion hit her, she gasped. "Are you going to spank me?"
That mischievous smile turned cold. "The thought did cross my mind," he said, dropping his finger, "but right now, I'm too pissed off. I can't trust myself not to hurt you."
"Then what the hell are you going to do?"
His hand went to her pants. He pinched the button with his finger. "I'm going to place my mouth on your pussy." His eyes shot up at her. "And then I'm going to lick you until you cum."
"Well," Jinx stuttered. She heard the metal hiss of her zipper as it went down. "Well, that doesn't sound like a punishment to me."
"That's because," Jed said and gathered the sides of her slacks into his hands, "that's not the punishment."
Lost to the heated look in his eyes, vanquished by the threat of the mysterious, naughty punishment, she fretfully asked, "Then what is?"






The Forbidden Claim is a story about a man who for years has worked undercover in a world of malevolence. Jed's so deep into his cover that when Jinx Collins clashes into his life, he fears he will become the very evil he's been fighting against. He surrenders to his badly behaving desires and allows himself to claim ownership of Jinx's body. But Jinx wants more, she wants Jed to take ownership of her heart.
By the time I finished this story, Jed Kane had broken my heart more times then I'd like to admit, but in the end, I still fell in love him . . . I hope you do too!
Enter to win
Jed Kane and Jinx Collin's
love story!
For this contest
I'll be giving away one eBook copy of
The Forbidden Claim!
(INT contest)
Click HERE to read
Book Blurb and another Excerpt
a Rafflecopter giveaway
Good Luck!
Check out my FRIDAY's BAD BOY CONTEST
for a chance to win $25 E-Gift Card "Your Choice"
(you don't need to participate in this contest
to qualify for the Lovestruck Giveaway Hop)
CLICK ON ANY OF THE SITES BELOW TO CONTINUE ON THE HOP!